Reflective hanger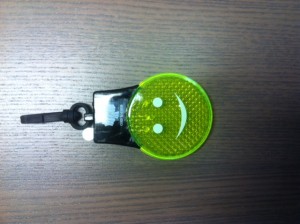 This is a greenish-yellow plastic prism with 3 LEDs inside. The black colored plastic part and the prism also can produce with own logo. With the button on the top of the hanger can control the emitted light:
Continous light
LEDs flashing alternately
3 LEDs flashing simultaneously
This product is a perfect accessory of children's schoolbags!
Bike light set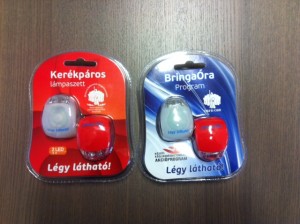 LED bike front/rear light set. The fixing part of it, made from flexible silicone material. Thus,will be easy to placement the lamps. We can produce the silicone part of the lamp with own logo. If the client need, we can design and produce the whole blister package with own logo and text.
Foldable folder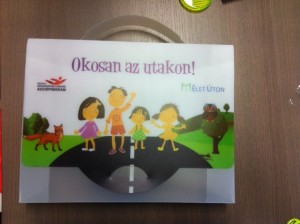 Practical and unique file folder. It can use as a promotion gift for companies also. The folder ears are located on the top of the product, so you can easy carry with yourself . It is available with own logo.
Dimensions: 30cm*23cm*4cm
Spoke prism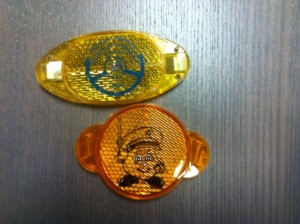 Under the current regulations, you must fit on your bike reflective accessories. According to prescribing, required to place on the back one or two symmetrically positioned red prism. Also required to take one prism between the front wheel's spoke, which should be amber-yellow color and from both sides need to be seen.
We sell prisms with unique designs, whiches suit all customer's and provision's of law requirements.
Bike protector kit
Cyclist knee and elbow protector set, with reflective stripe for better visibility.
This product is perfect to protect children during skating, rollering or cycling. The strong plastic shell structure can protect them from injury, but  in the same time, the inner part of the protector is made from soft and comfortable material. Wearing of these product do not cause any discomfort feel for their users.
Cyclist Helmet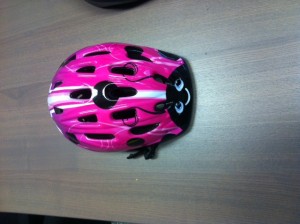 This cyclist helmet is the perfect lid for today's high-energy kids. Bike helmets are by far, the most important piece of cycling gear your child will need.
For maximum protection the helmet must be good fit and all retention strap must be secure. This helmet is for pedal cyclist, skate boarders or roller skaters.
Silicone Bracelet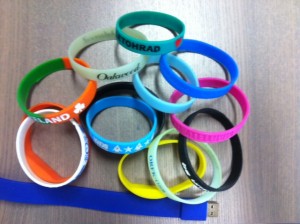 Order and personalize your own custom silicone bracelets! Choose your own message, color and font! This pruduct's material is 100% silicone. Sizes: 200mm*12mm*2mm